Black Bear Factory of North America
Muskeg Country Outfitters hunts the thick woodlands, swamp and farmlands on the fringe of Manitoba's Riding Mountain National Park, also known as the "Black Bear Factory of North America." This area has an amazing mix of untouched wilderness bordered by rich farmland giving the bears abundant and diverse food sources. This mix, combined with world-class genetics, grows some of the world's largest bears.
Legendary Black Bear Hunting in Manitoba
Our primary goal at Muskeg Country Outfitters is to give you the opportunity of a lifetime in harvesting one of these legendary black bears. Our strive to over-achieve with every hunter tagging out, measures our success by your success. Therefore, we thrive on providing exceptional service for your premium guided hunt.
Our area has excellent colour phase numbers from the common black to the elusive blonde as well as all colours in-between.For assurance that you'll have plenty of bear action upon arrival, our bait sites are well maintained prior to your hunt.
About Our Black Bear Hunts
All hunts are five days, starting in late April and continuing into May and June. Inquire with Muskeg Country Outfitters about fall (September) hunts. You will enjoy our first-rate accommodations with our hearty home-cooked meals. We also provide professional guides, active bait sites, and tree stands, as well as all your trophy care needs. A reputable taxidermist is available at your own expense (Holman Taxidermy).
If you are looking for a fun-filled, exciting hunt for big Manitoba bruins, search no more. Come join us on an unforgettable hunt in friendly Manitoba, home of some of the largest black bears in North America!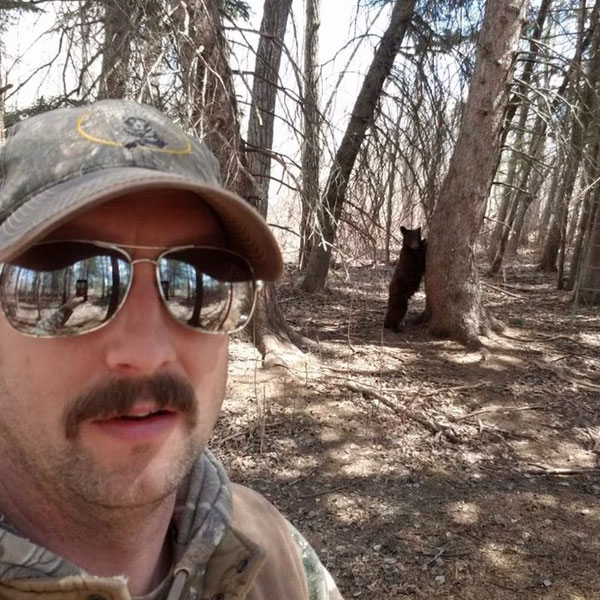 Hunting Rates
July 2022: Please call or email for current pricing.

Muskeg Country Outfitters looks forward to hosting you in your pursuit of the elusive Manitoba black bears that inhabit our territory. If you decide to book a hunt with Muskeg Country Outfitters, we suggest an early reservation of preferred dates you'd like to hunt as we have a tendency to fill up quickly. We can  book hunts as far as two years in advance.
To book your hunt, or for more information on your trophy adventure package, please contact us at muskegout@mymts.net or call 204-741-1021. Sorry, no bookings online.

What's Included
Knowledgeable, licensed guides
Accommodations and meals during your stay at the camp
Licenses and taxes
Ground transportation during the hunt (truck and ATV)
Portable tree stands and blinds
Skinning and trophy care

What's Not Included

Transportation to and from Muskeg Country Outfitters
Hotel accommodations before and after the hunt. We can provide information on selected accommodation options at special rates.
Gratuities, based on good service (10-15%)
Our Hunting Policy
A hunter who draws blood and after an honest effort by the guide or guides, to retrieve the animal with no success,and at the discretion of the guide, it will be considered a kill and a successful hunt.
Taxidermy
Taxidermy is available at an additional cost. We recommend Scott Holman Taxidermy. Scott has over 35 years of taxidermy experience and will ensure that your trophy receives the top quality and attention to detail that it deserves. Email: sholman@wcgwave.ca, or call 204-725-4474.
Waterfowl Hunting
Duck and goose field hunting is exceptional in our area. Our friends at Dirty Lake Outfitters conduct waterfowl hunts in southwestern Manitoba every fall. You can learn more about them on their website at dirtylakeoutfitters.com.